Skirmish Equipment & Load Out
Skirmish or Paintball as it is also called, requires specialized equipment so Skirmish Samford, we have the best.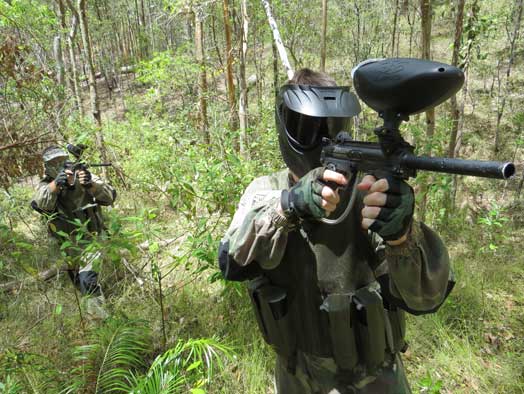 BT-4 combat semi auto paintball gun
BT-4 combat semi auto paintball gun
Tactical fingerless gloves
Optional carbon fibre barrel
Tactical elbow and knee reinforcement
JT Premis goggles with anti fog coating 
The paintball gun you are issued is a BT-4 combat semi auto paintball gun with a lightened trigger, ported barrel, 200 rnd hopper and a carbon fibre air tank for constant velocities and light weight.
For  better accuracy optional carbon fibre barrel is exactly what you need at just $10.00
Our JT Premise goggles with a special anti fog coating applied before you play are exactly what you need to keep you protected whilst giving you great visibility.
Our mil-spec uniforms are rip stop with reinforced tactical elbows and knees. Tough and practical. We also have JT body armour and gloves for the ladies.
Our higher level packages include a harness to carry those extra paintballs these tough and practical harnesses will help you keep the firepower edge against you opponents.
Items for sale include  JT Goggles, neck guards, groin cups, and fingerless gloves. 
Look tough on the battlefield as you battle your opponents.
Bring along enclosed foot wear such as good running  or outdoor shoes / boots. This will give you the traction you need move from cover to cover!
We have Emeks a fantastic paintball gun and upgrade barrels to give you more of a edge.